Holiday for nature lovers and birdwatchers
Holidays for birdwatchers
The area is a paradise for birds and birdwatchers. From your seat in the garden you can sometimes spot a capercaillie. The bearded vulture, the griffon vulture, golden eagle, the kite, the buzzard, the sparrow hawk and sometimes from the garden to admire. Between pine and beech forests flying finches, jays, woodpeckers and titmice diligently to loose.
Nature Holidays Pyrenees
There will also be many amphibians such as frogs, toads and salamanders for. Also reptiles are plentiful. Often you can see small lizards and wallgeckos.
Very nice to see are the many butterflies. Especially in the nearby Gorges de la Frau you see especially in July and August large amounts, including royal pages, appollobutterflies, dawn and all kinds of blues.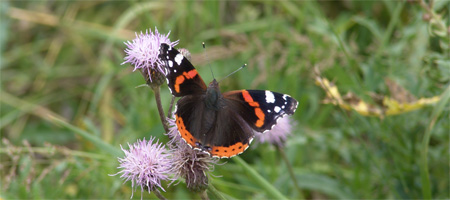 In spring and autumn can be nimble chamois leaping and climbing steep hills in the surroundings of the Château.
Nature Clean
In the vicinity are also a lot of different flowers and plants to admire. The wood anemone, pulmonaria, Squill, wild gentian, wild digitalis, fireweed and heaven key part of 3300 plant species that occur in the Pyrenees. There is also a great variety of orchids.
Caves
Among the mountains, rich in limestone, by seeping water millions of years, nature created many caves. One of the best known is the Grotte de Niaux where you can see nearly 11,000 years old paintings from horses and bisons. There are also some foot prints of artists present. The Labouiche Grotte, Grotte de Bédeilhac, Grotte de la Vache and the Grotte de Lombrives are very worthwhile.